Right after TBM and I ended things, I was at El Rey with some friends, pretending to be interested in women's soccer, when I saw an old acquintance of mine who had recently moved to NYC, out of the corner of my eye. Z, who went to law school with my ex-bf, came over to say hello to our group and as we chatted, I saw that he was sitting with a tall, stunning guy who I had met briefly during a party over a year ago. We both were in relationships at the time, and had bonded over our respective partners being in law school (and actually in the same classes). He happened to be sitting without his equally stunning blonde girlfriend, so I asked Z where the other half of the gorgeous couple was. Z turned to me, and then said those magic words that make you feel both happy and guilty for being happy at the same time: "They broke up."
There is a small part of me that wanted to break into a song and dance because that meant this foiiiiine man was on the market, but of course did not want to seem smug so had to make some fake cooing noise and respond with an insincere, "awwwwww that is so sad." I jokingly (except by jokingly I mean, totally seriously) told Z to set us up, but Z just said, "he does not really go for non-blondes." Well, dagger. Straight to the point, Z. After this get shut down quicker than a girl at a gay gym, I munched on a couple (okay so a platter. I ate a frickin platter of nachos) of chips, I decided I could not fake my interest in soccer for much longer and headed home. I pretty much forgot about that encounter until over a month later when I ran into the supposedly blonde-obsessed stud at my friend's pool party in mid-August. I thought it was a little strange when we seem to hit it off and my spider sense was telling me that there was a hint of chemistry between us. Then, my jaw hit the floor when Daniel (had to stop just referring to him as "the stud" at some point) asked me, "So Z told me that you started seeing Shay… how long have you guys been dating?"
Excuse me? EXCUSE ME? I had to quickly correct him and let him know that I have never dated Shay, or have ever considered dating Shay, we are obviously just friends and that I am single. I put as much emphasis on the word "single" as I could without actually screaming. What a little dick, Z. He's like the bad guy everyone roots against in some rom com, darting in and out and trying to mess up what is clearly the beginning of a magical moment between this tall, tanned, stud (yeah he's so hot I just had to go back to referring to him as "stud" instead of by his actual name) and me. I guess I managed to fully establish my single status, and we exchanged numbers before I headed home. Take that, Z.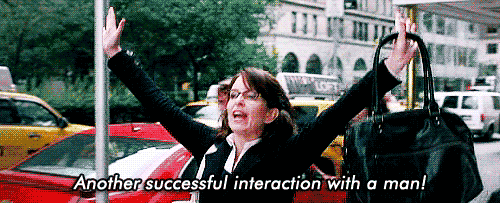 After a couple of chatty texts during the following week, I eagerly waited for Daniel to ask me out. You know what I am talking about. I would jump every time my phone buzzed and frantically try to get my thumbprint correct on the first try so I would be able to see the text ASAP. So I was very confused when he kind of asked me out…. but not really:
He did not bother to follow up about hanging out once I said I would be out of town, and I was perplexed by his refusal to schedule anything during the work week. I assumed this half-hearted attempt to go on a date just meant he was not that enthusiastic about spending time together and I let the idea of "the stud & me" (great name for a rom com right? Z would obviously play the role of the villain) go.
Until.
Until.
Until the second weekend of September when he invited me to his birthday party. I figured I had nothing to lose, and convinced my wonderful friend Allie to be my wingwoman on that Friday evening. After a couple glasses of wine, I told her we would just pop in to say hi and then could rejoin our other friends at another bar on 14th street. When we arrived, Daniel enthusiastically greeted us and threw his arms around me, but I could tell he was dahhh-runk. He disappeared from the roof into the dark dance floor a few minutes later, and Allie told me not to hope for too much attention on someone's birthday. I agreed, and decided not to put too much pressure on this situation, especially when he had yet to really express interest in hanging out one-on-one. So I told Allie we could meet up with our other friends and popped inside to say good-bye and wish him a happy birthday. The next couple of minutes were definitely not what I was expecting: he pulled me into him and kissed me. And maybe it was because the pitch-black, crowded floor made me feel like some carefree 22 year old, or because this was the last thing I was anticipating, or because he is….. just….. so….. damn…. fine, but I went with it and there we were, just two kids making out on the dance floor while Demi Lovato played in the background. I finally pulled away, and he looked down at me, smiled and said, "So dinner next weekend?" I knew it wasn't my birthday, but I certainly felt like celebrating in that moment.
The next day, I knew I should not get my hopes too high because well, I once was a 22 year old making out on dance floors and I remembered that the chance of a post-make-out-follow-up is slim. Also, the chances of him actually recalling the make out could also be slim. And then there's also the fact that our favorite rom com antagonist had to make a reappearance with the following texts:
But then, against all drunken make-out odds, the stud's name appeared on my phone the following day:
He suggested having dinner at Ghibellina the following Sunday. That also happened to be the day of my second half marathon, and I had already made plans with a group of my girlfriends for brunch, but I did not want to spook him (what if he just never asks me out again????), and agreed to dinner. After an especially boozy, indulgent bottomless brunch and some more hydration (errrr, okay, wine) at El Centro, I made my way home, re-showered, re-applied my make-up, and told myself that I needed to seriously calm down. The combination of exhaustion from the half marathon, my buzz from the afternoon of drinks, and the added of anticipation of actually, finally going on a date with someone you have been crushing on for a month made me a complete nervous mess. It had been awhile since I was this anxious before a date.
Daniel was already sitting at the bar when I arrived, looking absolutely delectable in a long-sleeve, plaid button up and fitted jeans. I ordered a manhattan, and we chatted for a little bit before the hostess seated us, which helped calm down my nerves a little. While I have been to Ghibellina for many pizza happy hours and a couple of brunches, I have never been for a sit-down dinner, and I took a moment to appreciate the warm, cozy dining room and the perfect date lighting (uh, this just means it was pretty dark and I did not feel self-conscious). As we perused the menu, he suggested splitting a starter, which I am always down for since I love sharing food. I asked him if he had any food preferences, and he then told me something that made me pause. He said, "I don't eat red meat, or pork." Oh shit. Then he followed that statement up with, "And I try not to eat cheese." Oh god. This was serious stuff he had just shared, serious stuff that required a lot of processing. And this is coming from me, someone whose last two boyfriends let me know about previous marriages, and I still kept dating them. This coming from me, someone who once had a boyfriend reveal to her he had owed a quarter million dollars in debt. I also kept dating that dude. But here I have a man who eats no red meat? No cheese? I looked down at the menu and sadly realized we would not be sharing the burrata.
He suggested the Insalata Di Farro, a farro salad with roasted beets, shaved fennel, hazelnuts and ricotta (apparently just a sprinkling of cheese is okay in his book). He went with the brick chicken, and while I had originally debated ordering the lamb chops, I decided I did not want him to be staring at me tearing away at some baby sheep, so I went with that evening's special, seared tuna over white cannellini beans. The farro salad actually turned out to be delicious, despite its major flaw: that it was not a giant ball of burrata. The roasted beets and hazelnuts added some sweetness while the sherry vinegar dressing balanced everything out by adding some tangy acidity.
After a bottomless brunch, I was feeling slightly full after our shared app, but the tuna arrived in front of me and looked stunning. It was perfect seared the way I like it: very rare. I could cut into the sweet, tender meat with a butter knife and knew I would be powering through my fullness because this was a dish that was worth it. Daniel enjoyed his non-redmeat, cheese-free dish, guilt-free dish as we continued to talk, and I of course had to ask him about his break-up. He had dated his ex for four years, moving to the east coast when she transferred to GWU, and living with her and their dog for the last three of those years. That is some heavy stuff, especially when you consider that they just broke up in the spring, and I know he went to go visit her in San Francisco just eight weeks before our first date (thanks open social media accounts!). I'm not actually sure if he's ready to be dating again, or even interested in really dating again, but that is not my decision to make so I am fine just seeing where it goes and how he feels.
For dessert, Daniel dropped another bomb on me: he does not like ice cream. I tried not to act offended when he told me, since there's no real reason why disliking ice cream hurts me personally, but I was just in shock. Luckily, he voiced no dislike for hazelnut or chocolate, so we got a hazelnut chocolate cake. It was a little on the dry side, which was a blessing in disguise since I could easily resist eating more than two bites. Afterwards, Daniel asked if we could walk me home, and I invited him upstairs to the rooftop for drinks (water). We hung out for a little bit more but the race and the day drinking finally caught up to me and I struggled to stay engaged. I'm still not sure how much we have in common, or if he's actually interested in me, or if I could ever spent significant time with someone who does not salivate at the idea of steak frites or bathing in gelato… but maybe that does not matter that much when the guy looks so. damn. good.